---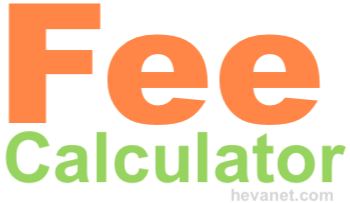 Regardless of what you sell, there are most likely fees involved in collecting money from the buyer. Credit card fees, commissions, transaction fees and so on, are part of a merchant's daily life in this cashless day and age.
This calculator can calculate what these fees will be and how much you will receive after the fees have been paid. This calculator will also calculate what amount you should sell your product or service for if you want the buyer to pay the transaction fees.
---
The percent transaction cost is the percentage a company charges you to process the financial transaction. It is based on the price of the product or service you are selling. For example, the Square Swipe charge is 2.6%, the PayPal fee is 2.9%, and the Payoneer credit card fee is 3%.
The fixed transaction cost is often in addition to the percent transaction cost. For example, Square Swipe charges $0.10 per transaction and PayPal's per transaction fees start at $0.30. Note that we ask the fixed cost dollar amount in our calculator above, so 35 cents would be 0.35 dollars.
When we calculate the price you should charge if you want the buyer to pay the fees, it will be more than your price plus the fees. The total price to the buyer will be more than your price plus the fees, because the buyer also has to pay fees on the fees.
The price examples above may have changed since we last checked their prices. We recommend that you check with the companies to get the latest prices.
---
Copyright
|
Privacy Policy
|
Disclaimer
|
Contact