---
This is the second part of my three part nuttiness. In the first part I compared a c.1990s Nikkor 200mm M f/8 against a pair of c.1930s and c.1940s Bausch and Lomb Protar Series V f/18 lenses. That was serious nuttiness. But for this test ... I recently acquired a c.1950's Schneider 90mm Angulon f/6.8 lens. I currently own a Schnieder 110mm Super Symmar XL f/5.6 and was curious to see if I could take the very small light Angulon on business trips when I travel overseas. I was hoping to avoid carrying the larger and hugely expensive Super Symmar.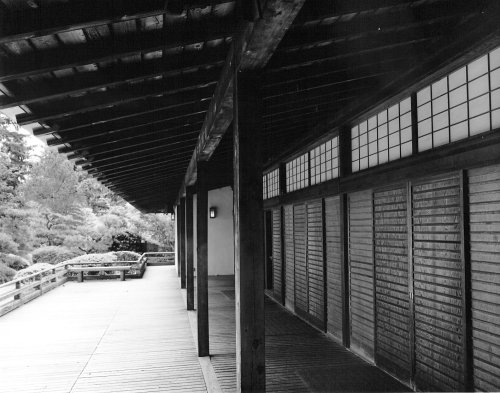 Pavilion - Japanese Garden
TMax100 film, 1/2sec, f/22
110mm Schneider Super Symmar XL f/5.6

My camera kits include everything from 35mm through to ultra large format. In 4x5 work, I like to carry a kit that is very small and light weight when I travel. Around town I usually work with a Linhof SuperTechnika III. I recently purchased an Ikeda Anba super light weight 4x5 wood field camera. The hope is that a kit based on this camera would be light enough for me to fly with as part of my carry-on luggage. While this test might not seem as nutty as the 200 Nikkor M vs a pair of Bausch and Lomb Protars test, this test might be seen as "pushing the envelope" to some people. Afterall, if you believe Schneider's hype and marketing around their Super Symmar series, one might think the lenses were better, sharper than anything on the planet. Worse yet, a person might be led to believe that they could tell the difference between images taken using the new Super Symmar and their older optics.

A little perspective -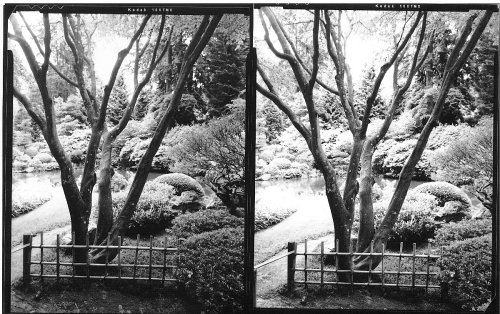 Unmanipulated contact sheet
Both exposures on TMax100 film, 1/4sec, f/22
90mm Schneider Angulon f/6.8 (left)
110mm Schneider Super Symmar XL f/5.6 (right)
The Schneider Angulon is a take-off of the Goerz Dagor f/9 wide field series of lenses. Schneider's renditions came into production prior to the Second World War. A person can quite easily find uncoated pre-war versions. Some pre-war lenses are marked in centimeters instead of millimeters. The lens tested here was single coated and was marked in millimeters. The lens is an interesting 6 element 2 group symmetrical design. The optic has only 4 surface to air interfaces. For this reason, the lens is reputed to be contrasty, even when single coated. The Angulon series of lenses are no longer made. I think the last batch left the Schneider factories sometime during the 1970's.

The Schneider Super Symmar XL series of lenses represent a new design. One element is aspherically ground. This is unique as aspheric optics are typically difficult to make. Some 35mm lens manufactures who build aspheric lenses use a thin layer of optical grade plastic to reform the spheric curved surfaces into aspheric forms. Also of interest is that fact that the Super Symmar computer design is reputed to have been derived by someone who used to work in the lens construction area of Schneider. It is said that they kept an eye on production costs and manufacturability, in addition to creating small, comparatively light wide angle lens.
There is no modern equivalent for the Schneider Angulon. Rumor has it that the unique glasses used to build the lenses was no longer available. Still no one has come along to reformulate the design using available glass types. The Angulon series has been supplanted completely by the 100+ degree Biogon formula Super Angulon series. However, used examples of the 90mm Angulon are readily available for cheap on eBay (~$170US).

The Schneider Super Symmar lenses, being a very recent design, remain in production. These appear to have been meant as lighter, more compact replacements for the original Super Angulon lenses in 120mm, 165mm, and 210mm focal lengths. The Super Symmar XL series has gained a good reputation for resolution and image coverage. I have used my 110XL successfully for 8x10 images shot at infinity. However, the lens series is rather expensive. I paid $1200US for a new one several years ago. Due to currency fluxuations, these now sell for around $1400US new.

The test subjects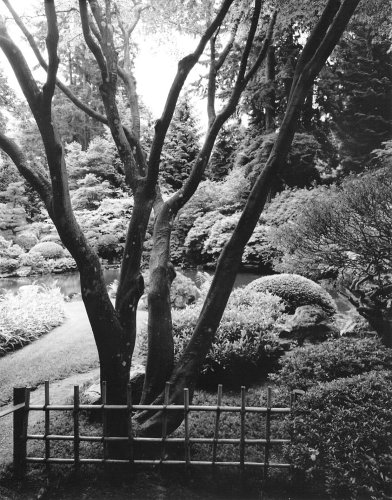 Tree - Japanese Garden
8x10 inch print
TMax100 film, 1/4sec, f/22
90mm Schneider Angulon f/6.8
First up, a c.1950 Schneider 90mm Angulon f/6.8 mounted in a Compur number zero shutter. The lens is single coated, very small, and very light (at around 130 grams). The Angulon gives approximately 80 degrees of coverage and is considered a wide field optic. Some people report they can use 90Anglons with a little rise/fall and swing/tilt on 4x5. Others report that the lens is only good when shot straight on. Understanding these kinds of limitations can be important when working in the field where a person might not get a chance to reproduce an image in the future. Knowing this however, I realized that if this lens came close to producing images with the optical properties that the Super Symmar provides the Angulon would become a welcome travel companion.

Next up, a sharp, relatively compact, true wide angle (105 degree), hugely expensive Schneider 110mm Super Symmar XL. This lens was purchased in 2000 and came new factory fresh. It is multi-coated and is an optical work of art. It is much lighter than the 120mm Super Angulon that it replaced in Schneider's product line (~425 grams). I have used this lens for ultra wide angle 8x10 format work. But for extremely light weight travel use, the lens is just a little heavy. Around town and on typical in-country travel the lens is a joy to carry and use. The images I have created using this lens are quite pleasing to me.

The test setup
Tree - Japanese Garden
8x10 inch print
TMax100 film, 1/4sec, f/22
110mm Schneider Super Symmar XL f/5.6
To perform a somewhat usable meaningful test, I needed to follow a common process and practice for both lenses. In this case I chose the following camera equipment, film, chemicals, and inspection processes.
Ikeda Anba 4x5 ultra-light weight field camera
Manfrotto tripod (as small and light as possible)
Gossen DigiSix averaging light meter
10x focusing loupe
Kodak TMax100 black and white film
Exposure: 1/4sec f/22
Kodak D76 developer
Kodak Polymax RC print paper
Kodak Detkol print developer
Contact prints
8x10inch enlargement prints
16x20 section enlarged prints
Raw visual inspection to compare print work as a viewer might first encounter an image
2.25x reading glasses to inspect print work
10x loupe to more closely inspect print work
Enlarged negatives inspected using grain focuser to observe the very finest details possible

On scene...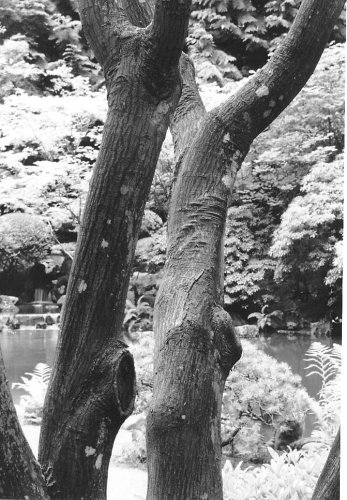 Tree - Japanese Garden
16x20 inch print
TMax100 film, 1/4sec, f/22
90mm Schneider Angulon f/6.8
Showing the area of the print to
be examined closely
Over a recent weekend, I met friends up at the Japanese garden. There is a nice grouping of trees very near a path inside the gardens. There weren't many people out this day and the light was diffuse from the heavy cloud cover. In both cases I focused on the tree bark of the center positioned trunk. There was seemingly enough textured detail to make a comparison between the two lenses interesting. The scene contrast was also sufficient to see how each lens behaved from the deepest dark areas through to rather bright areas, with even a little bright sky at the top of the frame to test the single coated lens' ability to control flare.
Working as quickly as a careful approach would allow, I framed the scene using the 90mm Schneider first. Exposed one sheet of film. Then mounted the 110Super Symmar XL, moved the tripod back to keep the approximate framing of the tree trunk equal to the 90mm image, focused, and exposed the next sheet of film. In two minutes I exposed two sheets of film using the two lenses. During this time, one friend swung his stereo camera rig (a pair of slide-bar mounted Bronica SQ 6x6 cameras) around to take a photo of me when I heard a sickening "thud". The mount point of his slide-bar had broken at the tripod threads. The pair of Bronica's hit the gravel and destroyed two UV filters. After care inspection my friend realized that UV filters had given their lives for the sake of the cameras. Everything still worked correctly, except that the filters would need to be removed and laid to rest.
One observation before proceeding; there was little to no visible difference in ground glass brightness between the f/6.8 Angulon and the f/5.6 Super Symmar. Both lenses focused quickly and accurately.

Test results - Proof sheet visual inspection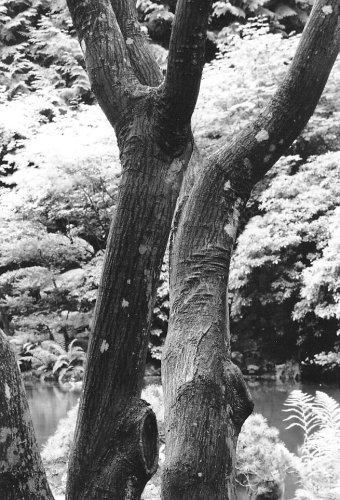 Tree- Japanese Garden
16x20 inch print
TMax100 film, 1/4sec, f/22
110mm Schneider Super Symmar XL f/5.6
Showing the area of the print to be
examined closely
Carefully inspecting the proof sheet showed nice even exposure for both lenses. The scene was very contrasty and the plants beyond the foreground tree trunks are very light. I was also able to judge the amount of flare the two lenses show when transitioning from dark to very bright areas at the top of each image. The Angulon seemed to handle the contrast as well as the Super Symmar in this instance. As contact images I could not tell any differences in resolution between the lenses.
Using either my 2.25 magnification reading glasses or the 10x loupe to inspect the proof sheets yielded nothing more than my straight visual inspection had. Both lenses showed equal resolution. Since I would be enlarging 4x5 negatives, the proof sheets gave little additional information beyond confirming that the shutters worked well and contrast was nicely controlled in both cases.
Visual inspection of 8x10 enlargement images -
After carefully inspecting the proof sheets, I turned to the 8x10 inch prints that I had made of the trees in the garden. Kerry Thalmann and I have stumbled across some seriously bad Angulons. In one case Kerry found element separation. In other reported cases it seems that build quality might have been suspect. My thinking was that if I had purchased a "dog" of a lens, then perhaps some differences might begin to show up in these simple enlargements.
Prints from the two lenses yielded images of about equal value in the shadows and highlights.
Regarding print resolution, there were no differences between the images. I confirmed this first visually, then when using the 2.25x magnification reading glasses, and lastly when viewing the prints with a 10x loupe. I was pleased with the results thus far. I confirmed that my wee-Angulon could produce as pleasing an image as the 110XL. Recently I have taken to enlarging a few of my images to 11x14 and larger. So the next test would be fairly important to me.

16x20 section enlarged prints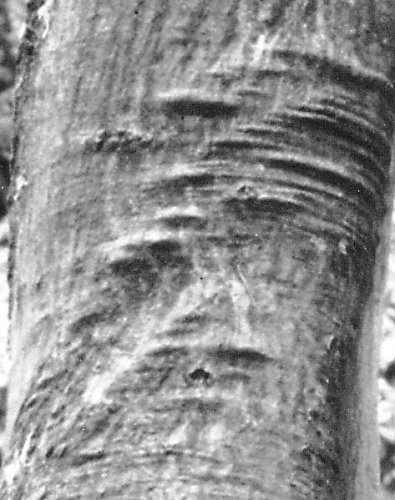 Tree detail- Japanese Garden
Section taken from 16x20inch enlargement
TMax100 film, 1/4sec, f/22
90mm Schneider Angulon f/6.8
After reviewing the 8x10 inch enlargements, I looked at the 16x20 section prints that I had made. A simple visual inspection of the two prints showed, again, no verifiable difference between them. Then I took my 2.25x magnification reading glasses and looked carefully. Again, no difference. Using the 10x loupe I found no verifiable differences between the two enlargements. The 16x20inch section prints proved to me that I could create equally pleasing images from the two lenses.

Enlarger grain focusing negative inspection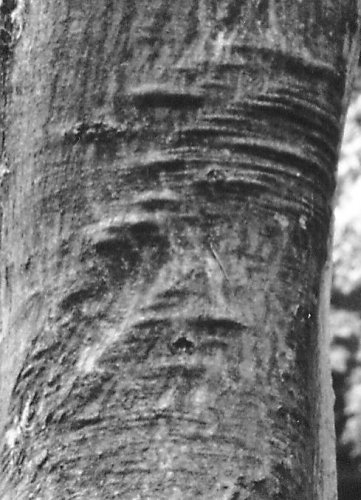 Tree detail- Japanese Garden
Section taken from 16x20inch enlargement
TMax100 film, 1/2sec, f/22
110mm Schneider Super Symmar XL f/5.6
I raised my Omega D2 enlarger head to give a 4x5 negative a 16x20 inch print size. Then I took my 40x Omega grain focusing device and inspected the tree bark at a combined 160x magnification. When viewed in this way, I could begin to see that the 110Super Symmar lens might be sharper than the 90Angulon. But it was very difficult to tell much of a difference. The local contrast was very similar, and flare control was about equal between these test images.
Conclusions - I undertook this test to see if the 90mm Schneider Angulon f/6.8 lens would be a suitable replacement for my admittedly very nice 110mm Schneider Super Symmar XL. I was looking for a very small light weight lens that I could carry when I travel on business. There was some doubt about the 90Angulon's ability to live up to the marketing reputation of the Super Symmar XL. You see, I wanted to believe what the product marketers kept saying to me: New lenses are better than old. I have succombed to lowly but all to common marketing pressure.
For these tests I limited myself to working in Black and White. It is my chosen medium. So there is no accounting for how the old Angulon might behave when shooting color film. From this test I have no idea how color images would compare to the modern multi-coated lens. But I could predict that color images from the Angulon would be pleasing. The images I reviewed were plenty sharp.
After inspecting the test negatives at 160x, I think I can see where both lenses are operating at f/22 diffraction limits (just over 60 lines per millimeter). Both images were very sharp and contrasty.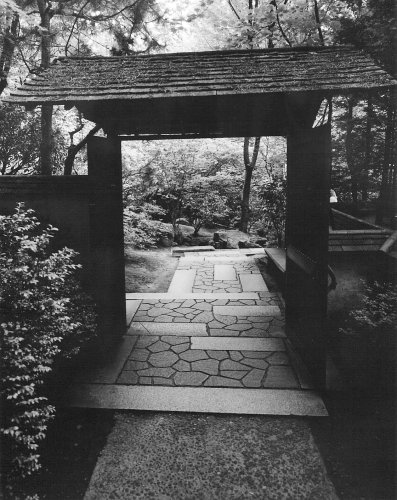 Gate - Japanese Garden
TMax100 film, 1sec, f/22
90mm Schneider Anuglon f/6.8
The 90mm Schneider Angulon f/6.8 coated lens was an outstanding performer. It handles contrast as well as the multi-coated multi-megabux Super Symmar XL. With good contrast comes increased apparent resolution. It was only at 160x magnification that I could begin to tell very subtle differences in true resolution between the 90mm and 110mm lenses.
If a 4x5 photographer were to find a 90mm Angulon used for around $175, and understood the coverage limitations of the early optic design, there would be no reason not to buy one. The lens is very sharp and contrasty. Alternatively, if a 4x5 working professional need to rely upon their equipment performing flawlessly under a wide variety of circumstances, again, the 110mm Super Symmar SL would be the lens of choice. But only if you have a wheelbarrow full of money to pay for one.
I have learned something very important: Avoid marketing hype. At apertures many 4x5 photographers shoot at (f/16, f/22, f/32) there is no practical difference in image resolution between well executed older lenses and newer optics. None. No difference at all. Diffraction limits appear to play a more important role in setting optical resolution than does optical design or source of manufacturer.
I am not a working pro, so my comments might not seem applicable to professional photographic applications. But the conditions I shoot under can be no less stringent. What I am is a crazy photo hobbiest who works as a manager of technology who will be taking the 90Angulon to South Asia the next time I travel on business. The 90Angulon will go in place of the "oh my gawd I'd better not drop this" 110Super Symmar XL. The Angulon is tiny (weighs around 130 grams), is mounted in a working shutter, and is very sharp. It will be the third lens in a very light weight reliable Ikeda Anba 4x5 kit and will be carried along with a beautiful 200mm Nikkor M f/8 and a brand new 150mm Germinar W f/9. The whole 4x5 kit weighs less than a Mamiya 7 camera with two lenses.
I am happy that I tested the 90Angulon against the more modern 110SS-XL. It proved to me, once and for all, that old, tiny, light lenses need not take back seat to the latest greatest highly marketed wonder-toy on the planet. When working within the coverage limits of older lenses I know with empiric tested certainty that I can produce images of equal quality to the latest greatest new lenses.
---
You may also be interested in:

180 cm in feet

Centimeters to Millimeters Converter


---
Copyright
|
Privacy Policy
|
Disclaimer
|
Contact