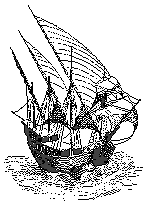 Port Of Call
Intertel Region VII Newsletter
Trans-shipping cerebral treasures and travesties from
Dutch Harbor to Egg Harbor and all points in between
---
Latest Additions/Dynamic Content
Current Issue: October/November 2012
Daryl Cagle's Favorites
Editorial and entertainment cartoons from around the world
Some updated daily, some weekly
User Friendly - The Comic Strip
Information technology
and the people who work in the sector
---
While Port of Call is a bimonthly newsletter of Intertel region 7, most of the contents are of interest to a wider audience. This set of web pages contains all of the articles, letters, and features back to August 1994.
POC is intended to be a free thought journal where any topic of interest to its widely diverse readership can be rationally discussed. While no materials are intended solely and specifically to offend, intellectual integrity is valued far above political correctness. The appropriate way to object to positions taken in POC is to submit a thoughtful and well written letter or article persuasively arguing your points.
Intertel takes no official positions on any issues. All expressions of opinion and statements of supposed fact published in Port of Call reflect the views of the contributors, and do not in any way reflect the policies and views of Intertel, Region 7, its officers and functionaries, or Port Of Call.
Editor's note: Welcome to Port of Call! As the current volunteer editor of Port Of Call and this home page, I hope you find the contents interesting and informative - or at least amusing. - Kort E Patterson
You may want to print or save the longer articles to read off-line and to share with your non-connected friends and associates
---
---
Additional materials not (yet) published in POC
---
Other interesting LINKS...
To go to the official Intertel website: Intertel International
To go to Region 8's website: Intertel Region VIII
To send email: Dear Editor...
---

Join the Blue Ribbon Anti-Censorship Campaign!

---