Prior to Invading Iraq... 2
The sense of a shared experience between everyone who marched for peace was strong. Tens of thousands of people from all walks of life turned out for many of the events held locally. Some were color folk. Others were quite middle class. And others were retired. Everyone felt the impending invasion was wrong. Perhaps they now realize just how right they were.
George W. Bush said to the Palestinian Prime Minister that "God told me to strike at al Qaeda and I struck them, and then he instructed me to strike at Saddam, which I did, and now I am determined to solve the problem in the Middle East. If you can help me, I will act, and if not, the elections will come and I will focus on them." Say what???
This is the second of several pages devoted to sharing photographic images from a few of the many marches for peace that took place in 2002 and 2003. Several cameras were used. Included was a Hasselblad 500CM kit with 80mm CT* and an old 120mm C Makro. I also used a Mamiya 7 with 80mm L kit as well as a Noblex 150F swing lens camera. The images shared here were taken using a Hasselblad. The single coated 120mm lens was sharp, but it lacked contrast. The multicoated 80mm lens, on the other hand, gave good resolution and contrast. I used Kodak TMa400 film souped in Kodak D76 developer.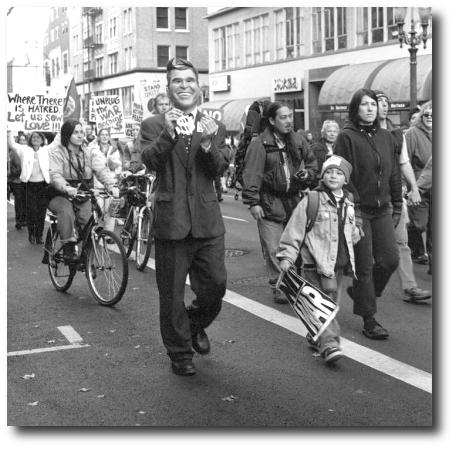 A nice illustration of the GWBush enabled greed of
Halliburton, Bechtel, Enron, RiteAid, GE...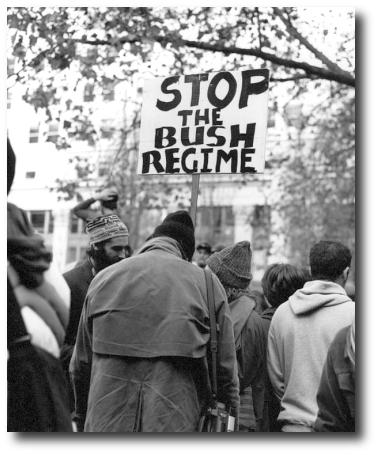 If only it were so...
we can impeach someone for a cigar, a closet, and an intern...
but can we do the right thing when people die for a lie?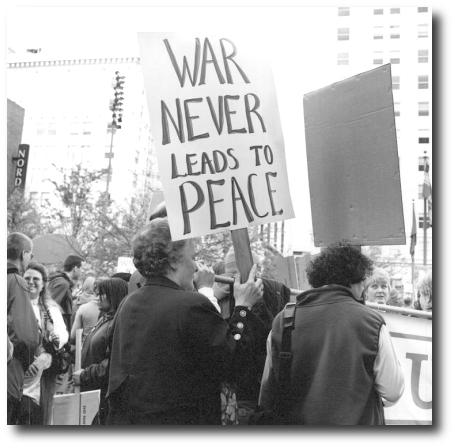 You know the citizenry is angry
when the retired folks show up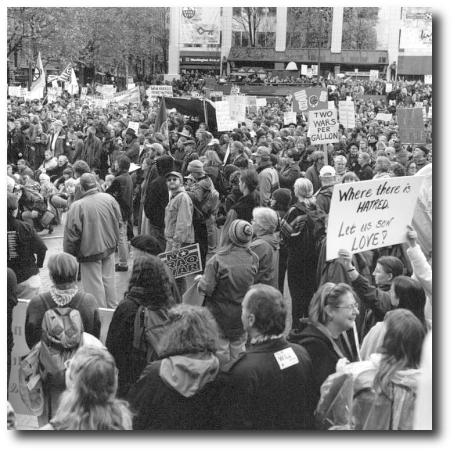 Even from the very first rally scores of people
showed up to voice their concerns.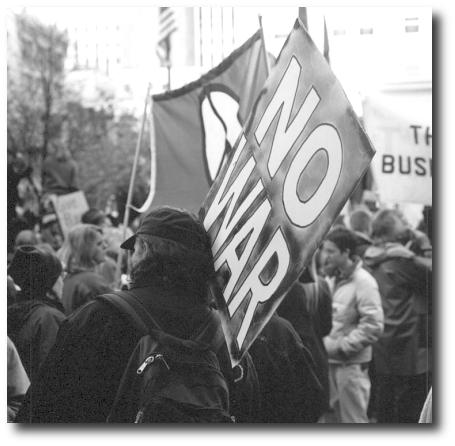 ... when the voice of the people is not heard...