Shooting 4x5 Large Format - Southern India
On a recent trip to India, I took a very small light 4x5 kit that I used to take a few photos. I spent a fair amount of time worrying over the details of taking such a camera kit as my only photographic device. I worried about holding up the people I was with. And I worried that the airport security folks would be aggitated with my "weird" equipment. Alas, I should not have worried in the slightest. Everything worked out fine.
These images were taken by a colleague using a Sony digital camera. I don't know which type or any of its specifications. But he was kind enough to pass them along, so I'm posting them here.
On this trip I took an Ikeda Anba 4x5 wood field camera. It only weighs 2 3/4 pounds. The lenses I took were a 110mm Schneider Super Symmar XL f/5.6 aspheric and a 200mm Nikkor M f/8. The film holder was Kodak's Readyload and I shot TMax100 B&W film. The entire kit was great to use and I really liked the ability to rise/fall the front lensboard to align the verticals. Many of my images are yet to be processed. But the initial results are pleasing to me. I will post a few things after I get around to printing again.
While traveling, the only question I had about my camera gear came in Frankfurt. One of the baggage screeners noted that I had several "interesting" things in my bags. Along with a nicely sculpted fish the screener wanted to see some of the "round things" in my carry-on. He was meaning my optics and once he spotted the Nikkor M he was happy and sent me on my way. Everyone else didn't stop to ask any questions. In all, my bags were scanned six times! Oh, and the film was not fogged. Life is good.
I had a wonderful time photographing around Bangalore and Mysore. I worked a temple in Bangalore and a dance school just outside the city. I visited Mysore, the Maharaja's Palace and temples on Chamundi Hill. Everywhere many people came up to me, most of the time in large family groups, to ask what I was up to. Some peered at the ground glass to see the image I was working on. People were surprised to see such an "old" camera still in use. Some asked about the prices. Most asked where I was from. In turn, I asked where they were from. We had many interesting and fun conversations. I even ran into an old photographer I met at the Maharaja's Palace 3 years ago. He remembered me. I had taken his photo with my Mamiya 7 and sent along a print. He was very happy with the print.
In short, I made many new friends in Mysore.
---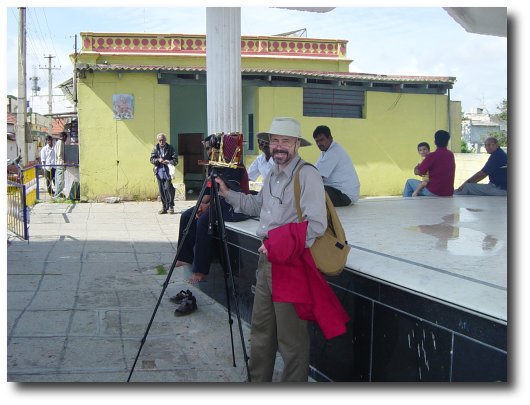 Photographer smiling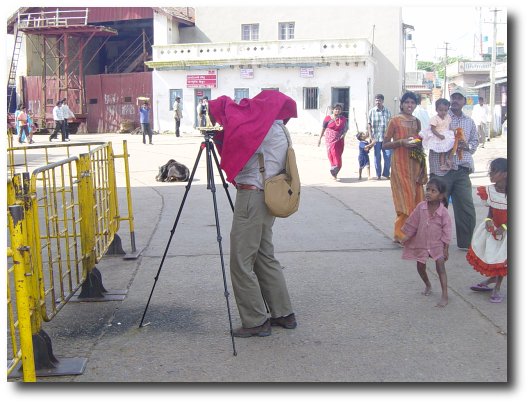 Photographer focusing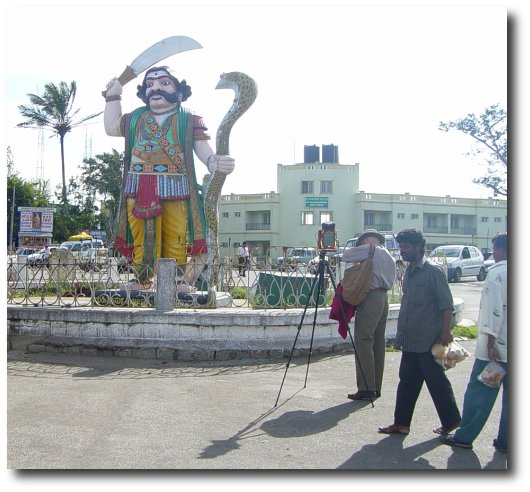 Photographer waiting for monkeys